---
TC Flashback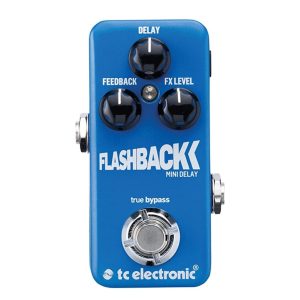 Tone Print Technology
100
True By-Pass
MXR M 169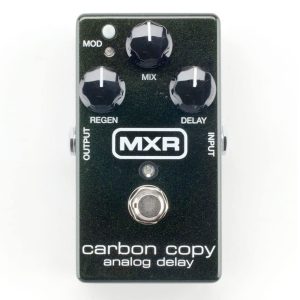 Rich, All-Analog Delay
Modulation Controls Emulate Tape Echo Tones
Bucket-Brigade Technology
Dunlop EP 103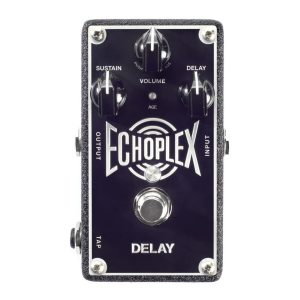 40-750 Ms Of Delay Time
Echoplex EP-3 Tape Echo Warmth And Modulation
Tap Tempo Functionality
Walrus 900-1039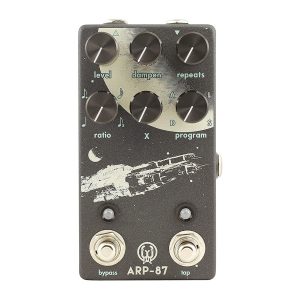 Feature-Rich Delay
Smart Bypass Switching & Momentary Knob Ramp
Levels, Ratios, Repeats Controls
MXR M 299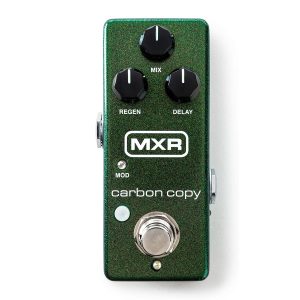 Modulation Switch
Mini Analog Delay Pedal With 600 Ms Delay Time
Bright Toggle
---
Choose the Best Delay Pedal for Metal
Customer's Choice: the Best Rated Delay Pedals for Metal
15 users answered this survey. Please help us improve this review!

60% of users selected TC Flashback, 6.67% selected MXR M 169, 6.67% selected Dunlop EP 103, 13.33% selected Walrus 900-1039 and 13.33% selected MXR M 299. Every month we analyze your answers and change our rating.
---
A delay pedal is a stompbox effect that records and replays any music fed into it. Typically, this playback occurs in milliseconds. When playback is fast, a delay pedal generates a "slapback" sound – an immediate, quick reverberation of what was played. Delay pedals generate cascading walls of sound when extended playback times are used. They're ideal for creating cinematic environments [1].
Reasons to buy a delay pedal for metal
The effects can assist your chorus, phaser, and other sounds become clear;

A delay may spice up a bland part, make a solo seem huge, and add depth to rhythm sections that would otherwise be absent;

They can transform a simple section into something more complicated;
The best delay pedals for metal are the ones that provide a multitude of options. The more you can customize your sound, the better off you'll be when it comes time to find your perfect pedal. This guide will help with that process by giving reviews on some of the most popular delay pedals for metal and providing helpful tips to make sure you get exactly what you want from your purchase.
TC Electronic Flashback Mini – the Editor's choice!
Welcome to the world of Flashback Mini, the true-bypass TonePrint compatible pedal that gives you instant access to 100's of free downloadable effects, as well as phenomenal sounds that are custom tailored by some of the world's top guitar players. Whether you're after a classic tweed tone or something more modern and overdriven, Flashback Mini can deliver!
This pedal is TonePrint compatible, meaning you can download hundreds of free effects to customize your sound. In addition, it sounds superb whether you're playing softly or shredding on stage.
Plus, with Tone Print Technology you can easily customize your effects to fit your unique style.
With the Flashback Mini, you get all the features of the original Flashback pedal, in a smaller and more pedalboard-friendly design. It's true-bypass, TonePrint compatible, and sounds superb.
---
MXR Carbon Copy Analog Delay Guitar Effects Pedal – the best for simple controls!
The MXR Carbon Copy Analog Delay Guitar Effects Pedal is perfect for anyone who wants to add rich, all-analog delay to their sound. With up to 600 milliseconds of delay time, this pedal gives you plenty of options for creating great tones. Plus, the modulation controls emulate tape echo tones, adding a new dimension to your playing.
And thanks to bucket-brigade technology, this pedal has a warm and natural sound that's perfect for any style of music. Best of all, it has a small footprint and adjustable modulation, making it easy to use even if you're new to guitar effects pedals.
This fantastic pedal features rich, all-analog delay tones, up to 600 milliseconds of delay time, and adjustable modulation for that coveted tape echo effect. Its modulation controls emulate the sound of a Tape Echo machine.
---
Dunlop EP103 Echoplex Delay Guitar Effects Pedal – the best for variable delay tone!
The Dunlop EP103 Echoplex Delay Guitar Effects Pedal is a great choice for any player who wants quality effects in a compact and easy-to-use package. This pedal features all-metal construction, easy-to-use controls, and a durable footswitch.
It also includes an age control that allows you to dial in a variety of extra tones, from warm and vintage to modern and sparkly.
You can choose delay times of 40-750 milliseconds to get the perfect sound for your music, and the pedal provides plenty of sustain for those long solos. Best of all, it comes with a mains adapter so you can start using it right away!
Make your guitar sound incredible with the Dunlop EP103 delay pedal! This pedal is compact and easy to use, with robust controls that are built to last. You'll love the classic tone you can achieve with this pedal, without all of the pesky maintenance issues. Additionally, the age control allows for a variety of extra tones to play around with.
---
Walrus Audio EQ Effects Pedal – the best for design!
Introducing the Walrus Audio EQ Effects Pedal! This amazing pedal is perfect for anyone who wants to add some creative delay effects to their sound. The matte charcoal surface with сream accents and seafoam ink depicts Chris Castro's original artwork, while the digital algorithm has flawless, crystal clear repeats that are perfect for rhythmic riffs.
The Slap setting makes it simple to dial in a wonderful slap back echo, while the lo-fi algorithm, with its adaptable repetition frequency range, goes from warm, warped, and murkily distorted to crisp AM radio. Smart bypass switching and a brief knob ramp make this pedal easy on the hands.
Walrus Audio's EQ Effects Pedal is perfect for creating delay tones that will inspire your music. With a frosted charcoal finish and seafoam ink, this pedal is stylish as well as functional.
---
MXR Carbon Copy Mini Analog Pedal – the best for portability!
This pedal gives you 600ms of delay time with modulation and bright toggle switches for sonic versatility. With its organic analog warmth and shimmering modulation, this pedal is perfect for country/rockabilly slapback, fattening solos, or ambient soundscapes.
Additionally, the easy-to-use MXR mini housing takes up minimal space on your board. The bright switch also provides additional sonic versatility.
And speaking of dimensions, this device for electric guitars is one of the most compact pedals on the market – perfect for tight spots on your pedalboard.
This incredible pedal gives you 600 milliseconds of delay time, a modulation switch, and a bright toggle to give you organic analog warmth with shimmery modulation. It's perfect for country rockabilly slapback, fattening solos, or adding ambient layers to your sound.
---
Useful Video: The 8 Best Delay Pedals Of All Time
---