---
TC Flashback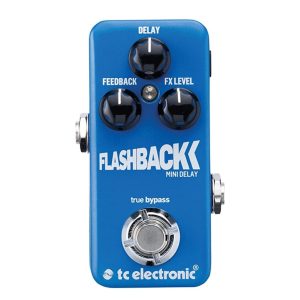 Tone Print Technology
100
True By-Pass
MXR M 169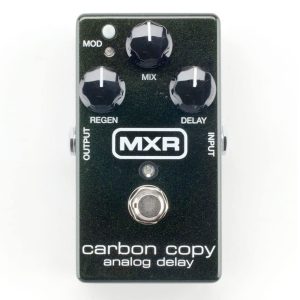 Rich, All-Analog Delay
Modulation Controls Emulate Tape Echo Tones
Bucket-Brigade Technology
Dunlop EP 103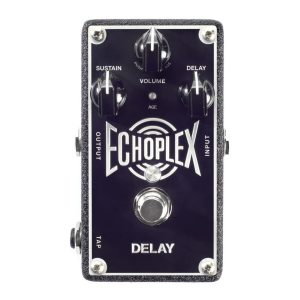 40-750 Ms Of Delay Time
Echoplex EP-3 Tape Echo Warmth And Modulation
Tap Tempo Functionality
Walrus 900-1039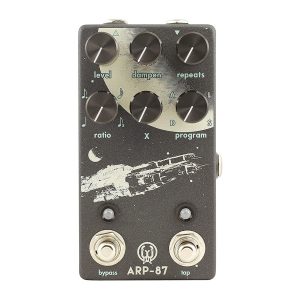 Feature-Rich Delay
Smart Bypass Switching & Momentary Knob Ramp
Levels, Ratios, Repeats Controls
MXR M 299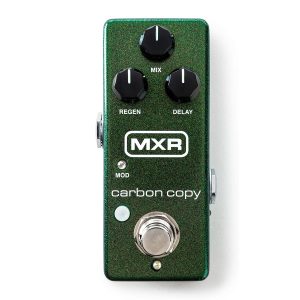 Modulation Switch
Mini Analog Delay Pedal With 600 Ms Delay Time
Bright Toggle
---
Choose the Best Delay Pedal for Metal
Customer's Choice: the Best Rated Delay Pedals for Metal
30 users answered this survey. Please help us improve this review!

43.33% of users selected TC Flashback, 16.67% selected MXR M 169, 6.67% selected Dunlop EP 103, 23.33% selected Walrus 900-1039 and 10% selected MXR M 299. Every month we analyze your answers and change our rating.
---
A delay pedal is a stompbox effect that records and replays any music fed into it. Typically, this playback occurs in milliseconds. When playback is fast, a delay pedal generates a "slapback" sound – an immediate, quick reverberation of what was played. Delay pedals generate cascading walls of sound when extended playback times are used. They're ideal for creating cinematic environments[1].
Reasons to buy a delay pedal for metal
The effects can assist your chorus, phaser, and other sounds become clear;

A delay may spice up a bland part, make a solo seem huge, and add depth to rhythm sections that would otherwise be absent;

They can transform a simple section into something more complicated;
The best delay pedals for metal are the ones that provide a multitude of options. The more you can customize your sound, the better off you'll be when it comes time to find your perfect pedal. This guide will help with that process by giving reviews on some of the most popular delay pedals for metal and providing helpful tips to make sure you get exactly what you want from your purchase.
TC Electronic Flashback Mini – the Editor's choice!
Welcome to the world of Flashback Mini, the true-bypass TonePrint compatible pedal that gives you instant access to 100's of free downloadable effects, as well as phenomenal sounds that are custom tailored by some of the world's top
guitar
players. Whether you're after a classic tweed tone or something more modern and overdriven, Flashback Mini can deliver!
This pedal is TonePrint compatible, meaning you can download hundreds of free effects to customize your sound. In addition, it sounds superb whether you're playing softly or shredding on stage.
Plus, with Tone Print Technology you can easily customize your effects to fit your unique style.
With the Flashback Mini, you get all the features of the original Flashback pedal, in a smaller and more pedalboard-friendly design. It's true-bypass, TonePrint compatible, and sounds superb.
---
MXR Carbon Copy Analog Delay Guitar Effects Pedal – the best for simple controls!
The MXR Carbon Copy Analog Delay Guitar Effects Pedal is perfect for anyone who wants to add rich, all-analog delay to their sound. With up to 600 milliseconds of delay time, this pedal gives you plenty of options for creating great tones. Plus, the modulation controls emulate tape echo tones, adding a new dimension to your playing.
And thanks to bucket-brigade technology, this pedal has a warm and natural sound that's perfect for any style of music. Best of all, it has a small footprint and adjustable modulation, making it easy to use even if you're new to guitar effects pedals.
This fantastic pedal features rich, all-analog delay tones, up to 600 milliseconds of delay time, and adjustable modulation for that coveted tape echo effect. Its modulation controls emulate the sound of a Tape Echo machine.
---
Dunlop EP103 Echoplex Delay Guitar Effects Pedal – the best for variable delay tone!
The Dunlop EP103 Echoplex Delay Guitar Effects Pedal is a great choice for any player who wants quality effects in a compact and easy-to-use package. This pedal features all-metal construction, easy-to-use controls, and a durable footswitch.
It also includes an age control that allows you to dial in a variety of extra tones, from warm and vintage to modern and sparkly.
You can choose delay times of 40-750 milliseconds to get the perfect sound for your music, and the pedal provides plenty of sustain for those long solos. Best of all, it comes with a mains adapter so you can start using it right away!
Make your guitar sound incredible with the Dunlop EP103 delay pedal! This pedal is compact and easy to use, with robust controls that are built to last. You'll love the classic tone you can achieve with this pedal, without all of the pesky maintenance issues. Additionally, the age control allows for a variety of extra tones to play around with.
---
Walrus Audio EQ Effects Pedal – the best for design!
Introducing the Walrus Audio EQ Effects Pedal! This amazing pedal is perfect for anyone who wants to add some creative delay effects to their sound. The matte charcoal surface with сream accents and seafoam ink depicts Chris Castro's original artwork, while the digital algorithm has flawless, crystal clear repeats that are perfect for rhythmic riffs.
The Slap setting makes it simple to dial in a wonderful slap back echo, while the lo-fi algorithm, with its adaptable repetition frequency range, goes from warm, warped, and murkily distorted to crisp AM radio. Smart bypass switching and a brief knob ramp make this pedal easy on the hands.
Walrus Audio's EQ Effects Pedal is perfect for creating delay tones that will inspire your music. With a frosted charcoal finish and seafoam ink, this pedal is stylish as well as functional.
---
MXR Carbon Copy Mini Analog Pedal – the best for portability!
This pedal gives you 600ms of delay time with modulation and bright toggle switches for sonic versatility. With its organic analog warmth and shimmering modulation, this pedal is perfect for country/rockabilly slapback, fattening solos, or ambient soundscapes.
Additionally, the easy-to-use MXR mini housing takes up minimal space on your board. The bright switch also provides additional sonic versatility.
And speaking of dimensions, this device for electric guitars is one of the most compact pedals on the market – perfect for tight spots on your pedalboard.
This incredible pedal gives you 600 milliseconds of delay time, a modulation switch, and a bright toggle to give you organic analog warmth with shimmery modulation. It's perfect for country rockabilly slapback, fattening solos, or adding ambient layers to your sound.
---
The Buyer's Guide
The Delay Pedal Definition
A delay pedal is one of the most popular effects pedals, in addition to distortion or overdrive pedals. Serious guitarists utilize it at some time during their careers. The purpose is quite straightforward. It duplicates the guitar's signal, much as an echo does.
The most common type of delay pedal is a very basic box. This box usually "sits" between an amplifier, guitar or studio input. You pick the settings on the box, push the footswitch. And this is when the effect occurs.
How to use a Delay Pedal?
There are a few things you need to take into account when using a delay pedal. Here are some tips:
Start with the dry sound

. This is your original guitar tone without any added effects. You'll want to have this as a reference point and make sure that all of your other effects sounds are going to work well together;

Set the delay time

. The most common setting for a standard delay is two to four beats. This gives you a nice, quick repeating sound that sounds like an echo without being too obvious or overbearing;

Consider how much of your original tone will be heard in between each repeat

. To get some feedback going and create an interesting effect with multiple echoes, set it so there's very little guitar signal in between each repetition. On the other hand, if you want something more subtle and delicate, set the pedal so only one quarter or half of your original signal can be detected before another repeats itself;

Experiment with different settings on the pedal before settling down on what works best for you

. A little bit of time with the pedal will allow you to figure out all that it's capable of;

Don't worry about getting it perfect on your first try

– the delay effect is always a trial and error process, but don't be discouraged by this fact. Enjoy playing around and having fun as you experiment;
Digital vs. Analog – Which One Is Better:
1) Analog Pedals
To create the delay effect, an analog pedal sends the signal through a variety of components. The signal generally goes through a number of capacitors. Because of how you've configured the control dials for timing and amount of delay, a chip will decide how all of this is accomplished.
The difference is that the signal that comes out is not the same signal that went in. Simply put, this signal has been changed. The tone of the input changes as a result of this diffusion; it becomes somewhat warmer. Many people would describe this tone as being warm [2].
The bottom line with analog pedals is that they generally provide a more natural sound, but they are restricted in terms of versatility and the breadth of the effect being produced.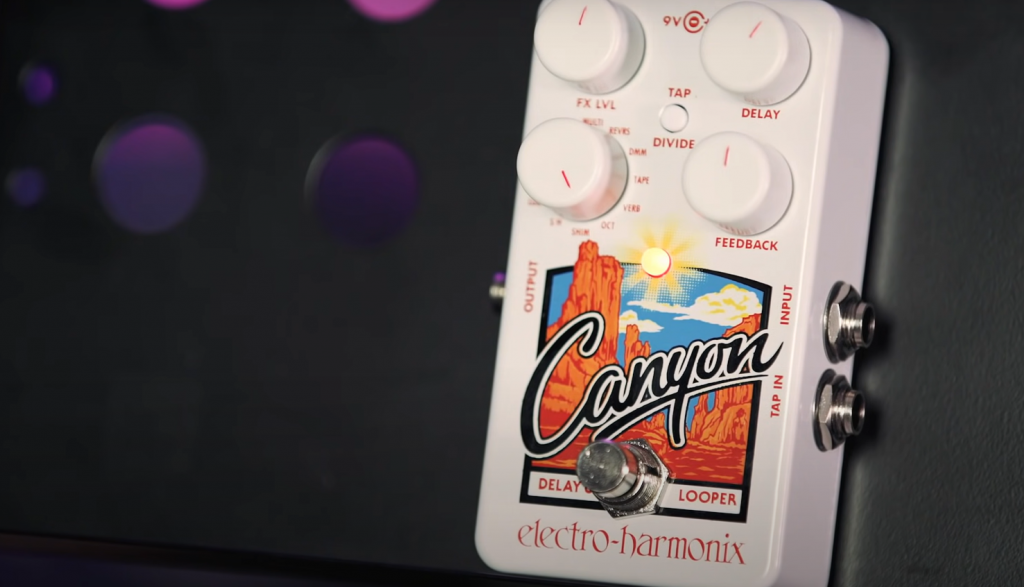 These microphones are built to be used with instruments that have been modified in some manner but still rely on their original sound.
2) Digital Pedals
A digital pedal, on the other hand, works in a completely different way. The analog electrical signal that reaches the delay is converted to a digital format. This implies that the sound received by the digital processing unit in the pedal can be handled however it pleases [3]. 
Digital pedals that are less expensive generally have a synthetic sound, whereas more costly ones may simulate the tone of an analog pedal, but only to a certain degree.
Digital pedals, on the other hand, provide a wider range of features and more parameters for you to experiment with.
Keep in mind that the sound you'll get from the pedal might differ considerably from the signal you're feeding into it.
What About Tape and Modeling Delay Pedals:
Tape Delay Pedals
Tape delay pedals were invented in the late 1950s and early 1960s. They use magnetic tape to record and replay portions of the signal on and off.
By combining numerous types of samples, a clean yet distinctive electric guitar sound was born. It not only created a unique sound in terms of the signal and mechanism themselves, but it also allowed the guitarist to have more space for fine-tuning the effect.
It is all about being capable of accurately changing and fine-tuning the delay time intervals. The delay/echo quality is considerably better than in other pedals.
If you remember audio tapes from your youth, you'll understand what I'm talking about.
The "wow" and "flutter" effects that are unique to this sort of mechanism give the sound an old-fashioned feel.
Tape delay pedals have changed a little over the years. Although there are a few manufacturers who continue to use old technology, they tend to be rather pricey and difficult to manage.
Modeling Delay Pedals
Although these are sometimes referred to as "modeling delay pedals", they are in fact purely digital. The distinctions between them and other sorts of delay pedals lie in the functions they offer.
They replicate a variety of different types of delay pedals and models from various manufacturers, much like modeling amplifiers.
There are many different versions of this product. Some have a greater number of available presets, while others offer superior sound quality.
However, even if you have a plethora of options in one location, the overall feel and outcome are generally low quality. In most modeling delay pedals, accuracy, dynamics, and intensity all tend to suffer.
Some of the details, for example, whether or not a delay pedal uses an analog bucket brigade filter and how much more precise it is compared to previous digital designs. But even with all this information, modeling delay pedals are still a good investment.
The flexibility and diversity of outcomes they provide can't be rivaled by any other delay pedal.
Keep in mind that the actual outcome will vary somewhat depending on what you're looking for, in terms of effects.
Main Features:
Tap Tempo
This is one of those items that I had no idea what they were used for when I first began experimenting with pedals. You may set the tempo using tap tempo.
Although it's not essential, as you may simply time your own timing, this option is very beneficial for keeping the rhythmic effects on the track. This function can be controlled with a footswitch or a knob.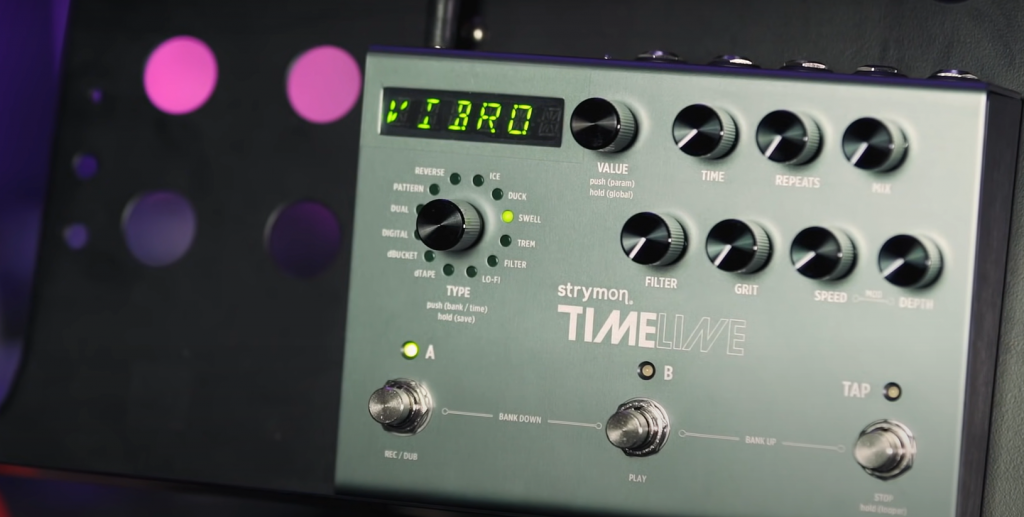 With this function, a pedal that utilizes a footswitch is ideal for musicians who want to use it for live shows because it's simpler to operate on stage. A knob, on the other hand, allows you to accurately adjust the tempo.
Looper
Sure, a standalone looper might suffice, but having this functionality built-in in a delay pedal is not only useful for practice; it can also produce some really unique effects on stage.
In the event that you want to make use of delay, loopers are definitely a must-have for any musician. Depending on the model and pricing, you may get delay pedals with included loopers that offer only basic controls, up to more advanced ones with many loops options.
Build Quality
The type and sound of your guitar will determine whether you need to pay close attention to the pedal's build quality and size. If you're going to be playing live and stomping on it night after night, you'll want to make sure it can take a beating and still function. A less trustworthy construction quality generally implies a cheaper pedal, so be sure that's necessary. The more feature-rich a delay pedal is, the larger it will be (thus taking up more room on your board), and the more expensive it will be. 
Size
Size is very important when it comes to delaying pedals. Why? The main reason for that would be the fact that they will take up a lot of space on your pedalboard, and in most cases, you won't have too much room to spare.
If we go back to the example of modeling amps – some models that are more compact can actually sound better than larger ones, so this isn't always an indication of quality either. If money's not really a problem feel free to pick any size you like but having something smaller might save you some trouble later on if you're tight with cash or simply need a small board since there aren't many options out there under $100 anyway. 
Controls
Delay pedals come with a range of controls, so it's important to understand what each one does before making your purchase.
Some pedals also include feedback control, which lets you dial in just the right amount of repeats. 
Other controls might include modulation (to add chorus or flanger effects), level (to balance the wet and dry signals), and tone (to adjust the brightness of your echoes). Spend some time playing with each pedal to see how its various controls affect the sound.
Multi-Effects Pedals
Multi-effects pedals can be a great way to get started with delay effects, as they provide a variety of sounds and features in one convenient package. However, because they contain so many different effects, it can be difficult to create the precise sound you're looking for. Additionally, multi-effects pedals can often be less reliable and higher in price than dedicated delay pedals.
Signal-Chain Placement
The placement of your delay effect in the signal chain is a vital factor to consider when experimenting with different sounds. Generally, you should place it at the end of the effects loop—although there are some exceptions. 
For example, if you're trying to achieve a clean sound that has reverb and delay on one side and modulation (chorus/flanger) on the other, then placing them both in series after each other can be helpful for achieving this kind of tone.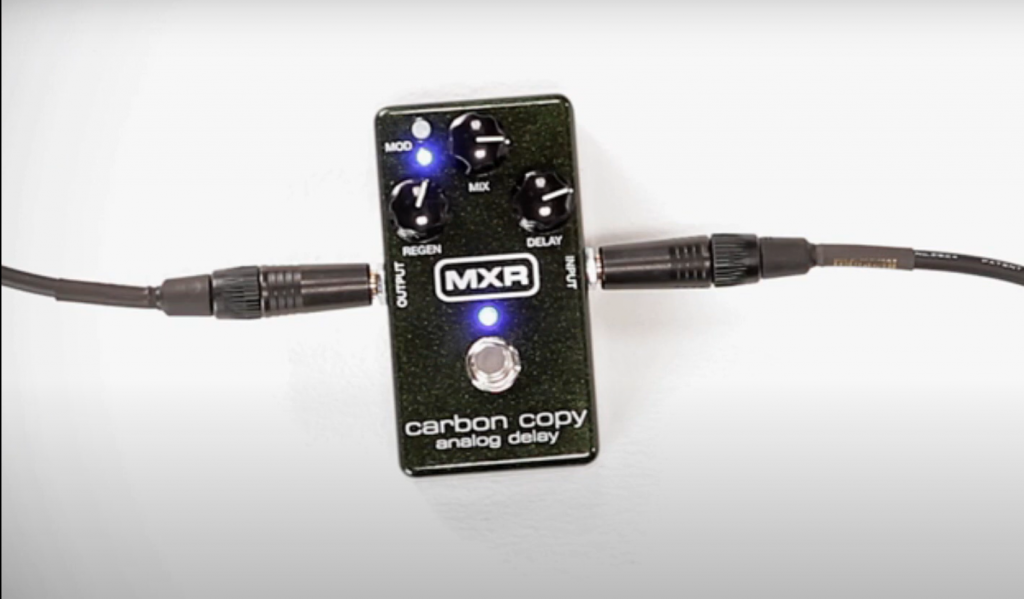 However, because every setup will be unique depending on what type of equipment you have available to use as well as personal preference, there isn't an exact rule about where these effects should go within your pedalboard! 
Presets to Get You Started [5]:
Slapback
The aim of this setting is to replicate the natural delay between the two heads on old-school tape recorders. Rockabilly and country artists are most likely to use it, but it's flexible enough to be utilized in various types of music.
A quick, sharp echo is meant to impart a pleasant taste to your dry mix.
Double Echo Effect
This is usually done to give the painting a more powerful, thicker feel. It appears that there are two guitars playing at the same time, allowing the signal to stand out in the mix and providing an overall presence.
Dotted Eighth
Numerous different settings may be used to get this useful effect. The sound you hear is identical to tapping a "dotted eight-note" behind the note you're playing. This frequently employed tool can significantly add depth and complexity to songs or solos.
Reasons to use a compressor pedal for metal:
Even Sound Dynamics
Even volume projection can be achieved utilizing an engaged compressor in the signal path, regardless of whether you're playing metal lead or rhythm. What's the significance? The explanation is that heavy detuned chords are louder than single-string soloing, which is evident since chords with more strings are used.
Compressors reduce the attack transience of your notes, bringing them closer together in terms of attack and volume level. When performing lead or rhythm, the compressor will create less variation in volume and provide a more fluid and smoother sound.
This would be helpful to you if you're playing with another guitar player. Because a constant volume provides a more polished and professional sound when performing live, as well as making the person behind the mixing desk's job easier, this is mostly true.
If you have less volume variance, make live sound mixing and gain staging easier. It also helps to tighten up your tone's loose bottom end dynamics.
More Sustain Is Delivered
The next reason is that a compressor increases the clean sustain, allowing the notes to be more audible, which is beneficial for lead playing.
Distortion naturally induces compression, so a heavily distorted guitar will already have a lot of compressions. Natural sustain, on the other hand, does not add any distortion, allowing you to be more easily heard in the mix. It also has no impact on the tone's sound and dynamics.
Clean Boost
When playing the lead, a compressor pedal can be used as a boost. When using a scooped high-gain sound for metal, volume decrease when soloing is acceptable, especially when next to another guitarist who's performing rhythm.
This is the most common problem I and other guitarists confront with this tone. Yes, there are pedals that can be used to increase your signal, but they come with their own set of problems.
The first alternative is to use a boost pedal, such as a tube screamer. However, just adding a boost pedal before the gain gives you more volume!
The larger the number of mids, the more undesirable it is. The presence of the tone is reduced, making it murkier and burying the overall sound in the mix. Adding mid-tones to your desired tone increases the signal but also modifies its dynamics and sound, resulting in a less scooped mid sound.
Place the compressor in its place! Using a compression pedal at the right time in the signal chain may give you a clean boost to your signal while retaining the tone. It produces a nice natural boost that lifts the volume and helps to cut through the mix.
If you like the way your amp sounds now, but want it to have a little more edge for solos, a compressor might be just what you need. A compressor can add more bite without adding any distortion while also improving the natural harmonics of your tone [8].
How do you delay metal?
One of the most successful methods to make your lag seem more organized is to plan your delay time ahead of time. This implies allowing the song's tempo to determine how long between delay repeats you do. 
This is a fantastic technique to produce a thick, commanding tone that complements your band's rhythm section and brings each instrument together. 
There's more to it than merely setting the Time control on a delay pedal to repeat in time with the kick drum; there are five distinct note values to choose from. 
It's simple to calculate these values and durations in the studio, where there's more time to get everything right. However, when five seconds of onstage silence feels like an eternity on stage, it isn't at all easy to do so. Fortunately, modern delay pedals have tap tempo switches that allow you to simply tap your foot to determine the delay settings [9]. 
What guitar pedals do metal bands use?
The answer to this question will depend on what kind of metal band you're talking about because different styles have different needs when it comes to effects. 
For example, black metal bands usually don't use any distortion or other harsh sounds as part of their sound; they rely heavily on atmospheric and ambient elements like reverb and delay instead. 
On the other hand, death metal bands often place heavy emphasis on palm muting with an extremely distorted tone – these kinds of riffs would lose most of their power without using some sort of overdrive pedal or amp modeler (which can function as both an overdrive and a delay pedal).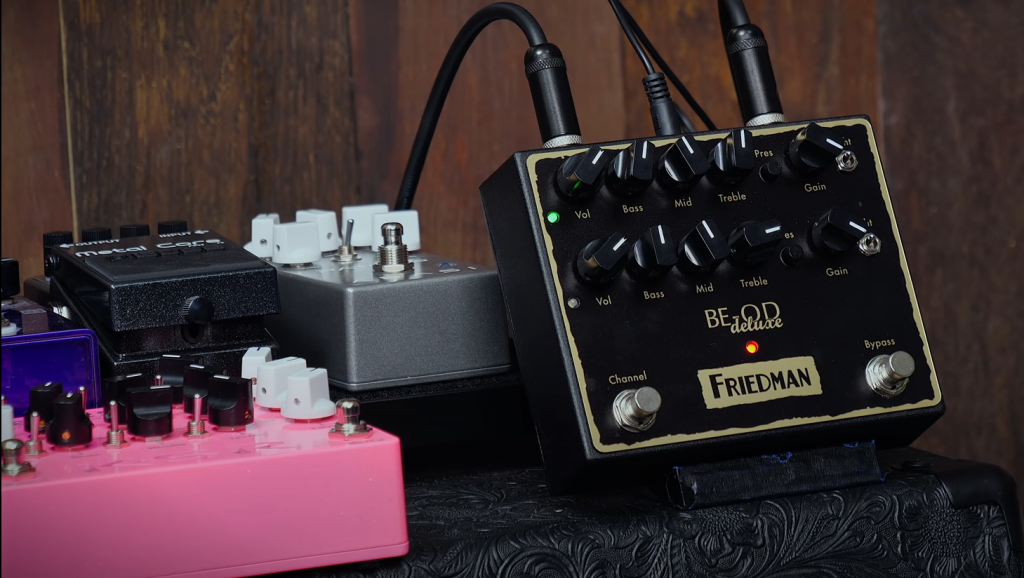 The same question could be asked about which kinds of amps bands typically prefer when playing live shows or recording albums. There seems to be no clear answer here either because some bands rely on extremely high-gain amplifiers that make their guitars sound "brighter" and more aggressive, while others prefer a warmer and richer sound that can be achieved with low-gain amps.
What distortion pedals do Metallica use?
They used a Mesa Mk IIC+ into a slaved Marshall power amp for MoP, AJFA, and Black. They also utilized Mesa quad preamps at the time. The Mesa dual or triple recto (not sure offhand) were their main weapons of choice for Load and Reload [10]. 
What's better – delay or reverb?
A delay pedal, in a nutshell, makes a duplicate of the input signal and then re-creates it at a time period following that of the original input. This can be described as an echo in basic terms. The majority of delay pedals allow you to modify the time (the length between the initial input and the echo), mixing (how loud the echo is compared to the original input), and feedback (how long the echo persists) settings.
Reverb, on the other hand, is a time-based effect that aims to recreate the reverberation effect that occurs when a sound is produced in an enclosed space, where several short echoes from the various hard surfaces at different angles to each other combine to provide a complete sound. The sound of someone talking loudly or singing in a cathedral or large church is an example of natural reverb. Reverb, on the other hand, is usually a less visible effect than delay.
Reverb is a production technique that adds an echo to a signal. Reverb effects are produced by digital processing, not through the use of springs or plates. Although amps with classic spring reverb effects generate them in the same manner as before, pedals create reverb effects via digital means. The Xvive MaxReverb Pedal, for example, may switch between a variety of reverb types, including spring, plate, and hall. All seem very realistic.
Reverb may give the playing a fuller sound. It can provide depth in live settings, especially in places with little ambient noise. Consider how much better a great vocalist sounds in a big hall with natural reverb than on a street corner, and you'll have an indication of how reverb might be utilized to improve your sound. Simply avoid going overboard – most live spaces will have more natural reverb than your bedroom or studio, so keep it moderate while sound-checking.
Delay pedals are popular among guitarists because they allow you to play faster than you really are. They're also great for fattening out your sound by using a "slapback effect", which involves lowering the time control, decreasing feedback, and adjusting the mix to around 50%. If a song calls for it, you may experiment with this on the harmonica, especially if you need to make up for space in the mix at a specific moment.
Of course, you may play around with more extreme settings – psychedelic tones are rather easy to create using big reverbs or long delays.
If you just want a fuller tone for recording and live plays, but your amp doesn't have reverb (or has a poor quality one, which is frequently the case), the reverb pedal is your best option. If you want to be more experimental, or just wish to make your solos sound good, go with the delay pedal [11]. 
---
FAQ
Do metal guitarists use delay?
When used sparingly, the delay is an excellent effect for heavy metal. It's frequently heard as a means of expanding the sound spectrum and placing lead lines nicely in the mix. Some guitarists have also employed very brief single repetitions to create a double-tracked rhythm sound [6].
What delay pedal does Rob Scallon use?
He's a YouTuber and musician from the United States who is well-known for his amazing guitar playing. So, what delay pedal does he use to create his unique sound? To obtain the delay effect he desires, Scallon employs the Mooer Reecho digital delay to make it happen [7]. 
Are chorus pedals used in metal?
Metal isn't employed as frequently in music. When used sparingly with a slow modulation and a wide sweep, it may create a beautiful sheen to clean parts when used in conjunction with reverb and delay.
Is a compressor pedal good for metal?
Compressors are often neglected in the realm of metal sound for a number of reasons. A compressor is generally used to create transparent clean sounds, usually using single-coil pickups to boost the low dynamics of notes and make them more audible, while balancing the overall sound. This may be beneficial to a country fingerstyle method, which employs fingers and a pick to pluck the tones.
There will be a variety of controls and volume with this technique. The attack transience will be smoothed out, and the subtle differences in dynamics will be evened out, by using a compressor.
The absence of high-end in a flat recording can make the sound less interesting and exciting. Sustain, on the other hand, is an important element of warmth and depth. The tone will be more sustained when you use a compressor to keep it ringing out longer while also adding warmth and character to it.
Useful Video: The 8 Best Delay Pedals Of All Time
Final thoughts 
The best delay pedals for metal are the ones that provide a multitude of options. The more you can customize your sound, the better off you'll be when it comes time to find your perfect pedal. This guide will help with that process by giving reviews on some of the most popular delay pedals for metal and providing helpful tips to make sure you get exactly what you want from your purchase.
---
References:
https://www.masterclass.com/articles/guitar-101-what-is-a-delay-pedal-learn-how-a-delay-pedal-works-for-electric-guitar-effects
https://musiccritic.com/equipment/pedals/best-delay-pedal/#What-is-a-Delay-Pedal
https://musiccritic.com/equipment/pedals/best-delay-pedal/#What-is-a-Delay-Pedal
https://consordini.com/best-delay-pedal/#Analog-Pedals
https://consordini.com/best-delay-pedal
https://www.sweetwater.com/insync/5-ultimate-metal-rigs
https://killerguitarrigs.com/what-delay-pedal-does-rob-scallon-use
https://tonetopics.com/compressor-pedal-for-metal/
https://www.vein-tap.com/use-delay-pedal-improve-tone/
https://www.ultimate-guitar.com/forum/showthread.php?t=413423
https://theharmonicacompany.com/delay-pedals-versus-reverb-pedals/?v=79cba1185463