---
Rowin LEF-319 Effect Pedal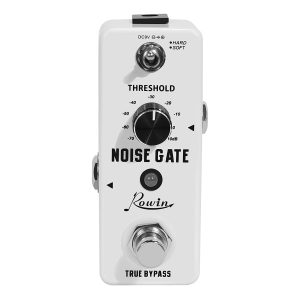 2 Modes – Hard And Soft
Adjusting The Noise Reduction Degree -70 — +10 Db
True Bypass
Rowin Tiny Looper Effect Pedal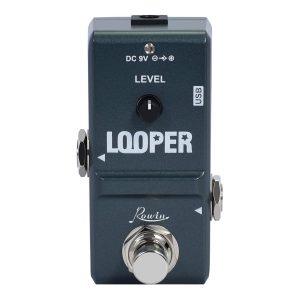 Usb For Upload And Download
One Key To Achieve Almost All Of Functions
High-Quality Zinc Alloy
ISP Technologies Decimator II Pedal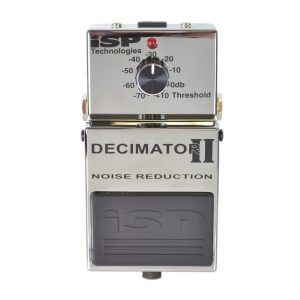 Ultimate Noise Reduction Pedal
Tracks The Guitar Signal Directly From The Guitar
Includes a LINK IN & LINK OUT
Electro-Harmonix The Silencer Pedal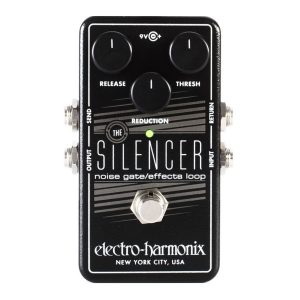 Buffered Bypass
Delivers Up To -70 DB Of Noise Reduction
Use It As An Inline Noise Gate
Mooer Noise Killer EQ Effects Pedal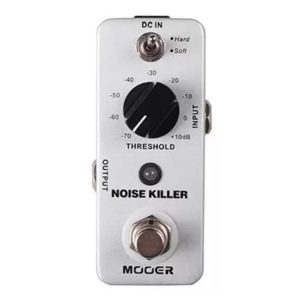 True Bypass
Very Small And Exquisite Full Metal Shell
Soft And Hard Mode
---
Choose the Best Noise Gate Pedal for Metal
Customer's Choice: the Best Rated Noise Gate Pedals for Metal
18 users answered this survey. Please help us improve this review!

61.11% of users selected Rowin LEF-319 Effect Pedal, 5.56% selected Rowin Tiny Looper Effect Pedal, 16.67% selected ISP Technologies Decimator II Pedal, 0% selected Electro-Harmonix The Silencer Pedal and 16.67% selected Mooer Noise Killer EQ Effects Pedal. Every month we analyze your answers and change our rating.
---
Noise gate pedals have become a must-have to manage unwanted noises while preserving the sound and feel of your playing. These stompboxes may be set to meet the preferences of the user, allowing you to minimize any undesired noise. Manufacturers have recognized their popularity, and all of the major pedal companies offer at least one gate effect pedal in their lineups.
Are you a metal guitarist? You know that sometimes the sound of your guitar can become too loud, even with distortion. This is where noise gates come in! Noise gates are pedals that help reduce the volume on your guitar when it falls below a certain threshold.
They are perfect for metal guitarists because they allow you to preserve the sound of drums and vocals while keeping your guitar sounding great at all times. If you want to find out more about these types of pedals, read this guide!
Rowin Guitar Noise Suppressor Effect Pedal – the Editor's choice!
The Rowin noise gate pedal is a competent noise gate with good results. The makers of high-quality pedals are responsible for it. The objective of the developers was to create a high-quality pedal at an affordable price that everyone could afford.
They also give excellent after-sales service to all customers. One advantage of using this Noise barrier is that it works effectively in reducing noise from the input signal while preserving the sound's genuineness.
The essential features of this noise gate are its low-noise design and premium components, which help to preserve your sound's individuality. It has two operating modes: hard and soft effect.
This device is lightweight and attractive, incorporating a full metal casing and true bypass, just like other high-performance effect pedals. It also has an indicator that displays the gear's operational status.
---
Rowin Tiny Looper Effect Pedal – the best looper pedal!
Introducing the Rowin Tiny Looper! This electric guitar effect pedal is perfect for creative musicians who want to overdub and create seamless loops with ease. It's made of high-quality zinc alloy and is very durable and sturdy, so you can rely on it for years of use. Additionally, its tiny size makes it easy to take with you wherever you go.
The Tiny Looper also features unlimited overdubbing, 10 minutes of looping time, undo/redo/delete options, and USB port support so you can easily upload and download music files from your PC.
The looper's most appealing feature is its footswitch. In addition, it delivers clear audio because it has been designed with the built-in true bypass support to produce unaltered looped sounds.
It's easy to use, and the price is reasonable. The owner's manual includes all of the necessary information. The push-button mechanism works perfectly, and you don't have to force it to work. Even though the looper is small, the volume knob is large enough for simple operation.
---
ISP Technologies Decimator II Pedal – the best for easy operation!
The noise reduction pedal is one of the company's most popular pedals for a reason. This device is the second version of the original Decimator, and it has earned a good name among guitar experts.
Plus, with its improved design, the Decimator II delivers unmatched performance and noise reduction. Simple to use and reliable, this pedal is a must-have for any guitarist looking to get the most out of their sound.
This popular pedal is powered by a 9V battery or a standard DC power adapter. In addition, it may be connected to another pedal and used to track the guitar input signal. Two Decimator II pedals can be operated in tandem, as can two Decimator II pedals with separate effects loops. For example, one before the preamp and one in front of the effect loops are common setups.
The pedal eliminates noise without cutting or coloring the tone, from a "set and forget" pedal to taming unruly single-coil ups or hi-gain amps. It's one of the most popular noise reduction pedals, and you'll understand why once you see it in action.
---
Electro-Harmonix The Silencer Pedal – the best for noise reduction!
Do you need to tame the noise in your signal chain? The pedal from Electro-Harmonix could be just what you need. Featuring an adjustable reduction range and release control, it gives you precise control over your sound. Plus, it's compact and rugged enough to take on the road.
The Silencer can be used as a regular inline noise gate or to gate an entire loop of effects, which is one of its most distinctive features. It's also a "buffered bypass" pedal, which means you may retain the effects loop even when the pedal is bypassed.
The EHX Silencer is the most affordable of the full-featured noise gate pedals. It might have been a candidate for our top pick, but we discovered that the Boss and ISP Decimator II are more steadfast in construction quality and unflinching in performance. Nonetheless, it provides outstanding noise reduction at this price range.
---
Mooer EQ Effects Pedal – the best for durability!
Mooer's EQ Effects Pedal is perfect for anyone who wants to fine-tune their sound. It offers both hard and soft modes, so you can choose the amount of noise reduction that's right for you.
Mooer's EQ Effects Pedal is a great, affordable way to reduce noise in your signal chain. With its hard and soft modes, you can get the perfect amount of noise reduction for your tone. And with its small size and true bypass, it won't affect your tone when it's not needed.
In addition, it's very small and exquisite, with a full metal shell, making it a great addition to any rig. And best of all, it comes at an amazing price!
The Mooer pedals are well-known for their affordable pricing and simplicity of use. As a result, I would strongly suggest this pedal to beginner guitarists who aren't familiar with effects pedals or audio processing. It's an excellent place to start for anyone wanting to get used to the idea of equalization.
---
Useful Video: What's The Best Noise Gate Pedal?
---