---
D'Addario EXL160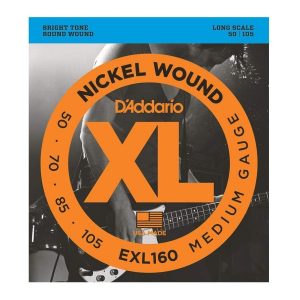 Material – Nickel Steel
Gauges – Wound (.050, .070, .085, .105)
5 Strings
Ernie Ball Regular Slinky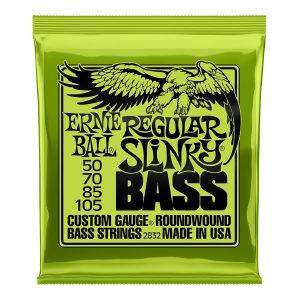 Material – Nickel Steel
Gauges – Regular (.050, .070, .085, .105)
4 Strings
DR Strings Bass Strings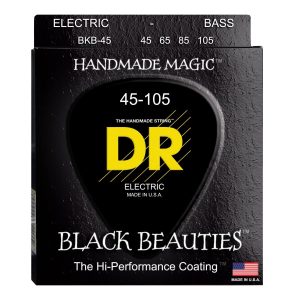 Material – Coated
Gauges – Medium (0.45, 0.65, 0.85, 0.105)
4 Strings
Ernie Ball Super Slinky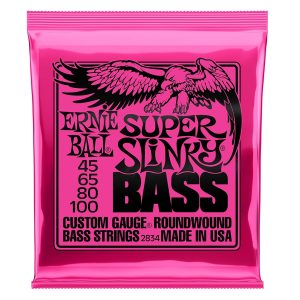 Material – Nickel
Strings Gauges – (.045, .065, .080, .100)
4 Strings
GHS Strings Bass Boomer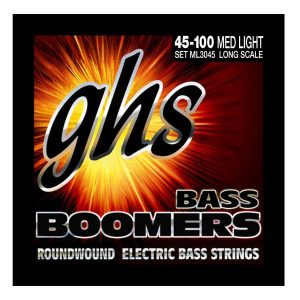 Material – Nickel Steel
Gauges – Medium Light (.045, 0.065, 0.080, 0.100)
4 Strings
---
Choose the Best Bass String for Metal
Customer's Choice: the Best Rated Bass Strings for Metal
11 users answered this survey. Please help us improve this review!

45.45% of users selected D'Addario EXL160, 27.27% selected Ernie Ball Regular Slinky, 9.09% selected DR Strings Bass Strings, 9.09% selected Ernie Ball Super Slinky and 9.09% selected GHS Strings Bass Boomer. Every month we analyze your answers and change our rating.
---
The bass string for metal is a steel core, round wound electric bass guitar strings with a dark sound and prominent mid-range. They are the most effective in creating a good tone when playing heavy metal music.
Benefits of bass strings for metal:
The right strings can help

improve the tone

of your bass guitar;

Some metal bass strings are

specifically designed to produce a higher output

, which makes them better for heavy music genres like death metal or thrash metal. These types of string are often called "metal" strings because they're made with hard tension wire that's less likely to break and will make palm muting easier;

You may also find that

bass strings designed for the metal have a thicker core wire

than other types of string; 

As with most musical instruments, the

right accessories can make all the difference when looking to purchase new equipment

;
Do you want to start playing bass guitar but not sure which strings are best for metal? If so, metal music experts have the perfect guide for you! In this article, the experts will go over what types of strings work well with metal music. They will also list the top 5 favorite sets and give a few tips on how to keep your gear in good condition. So if you're ready to rock out with some heavy duty bass strings, read on!
D'Addario EXL160 Nickel Wound Bass Guitar Strings – the Editor's choice!
The D'Addario EXL160 Nickel Wound Bass Guitar Strings is great for giving your bass that iconic round tone and crisp sound, like the big amps do. It has clear fundamentals and booming, tight low end – you can really feel it!
And that's not all – thanks to its long-scale design, we're sure that these strings will work on any basses with up to 36 1/4 inch string scales. String gauge of this set is made heavy so you'll have the right control over every note.
The D'Addario EXL160 bass guitar strings are one of the most popular sets of nickel-plated, round wound strings. They're made with the most durable and long-lasting material for a distinctive bright tone with clear fundamentals and booming, tight low end.
---
Ernie Ball Regular Slinky Nickel Wound Bass Set – the best for durability!
Get ready for those deep, low tones. These tend to have a more balanced sound with a solid feel and a guaranteed long life span. This product is made from the most popular bass string alloy on the market – slinky nickel-wound strings.
Need something fast? You can do it with this product because that's what they're designed for – simplicity – but don't let that fool you – they'll still provide fat tones when necessary!
Well-balanced and good all-around sound will help you play as fast as you want without breaking a string. Add these strings to your next purchase!
The Ernie Nickel Wound Bass String Set is the perfect grounding for any bass player looking to alternate their sound as needs. The general well-balanced, sturdy nature of these strings makes it easy to enjoy playing with no upkeep after a new set is put on your guitar.
---
DR Strings Black Beauties Bass Strings – the best for the coating!
DR Strings Bass Strings are handmade with brutal consistency which means every string is made the same way- maximizing efficiency, eliminating waste. If you want to find out what years of experience really sound like, then these bass strings will do the trick.
The DR sound is known for its crisp tone but also gave lots of clarity and volume to your music-making you very audible on stage no matter how big it is. Black polymer coat not only gives exceptional playing grip to avoid twisting creep problems but it seems firm so you know they'll last longer than most strings before they need replacing!
These strings are made by DR with black polymer coatings on both plain strings and wrap wire to extend string life without compromising sound quality.
---
DR Strings Black Beauties Bass Strings – the best for the coating!
Ernie Ball Super Slinky Nickel Bass strings are made in Southern California with the finest and freshest raw materials. These well-made strings will give you depth, clarity, punchy attack, satisfying sustain, and long life. The different gauges offer something for everybody (unless you prefer jazz), but one thing's for sure you'll never need any other bass string!
Featuring high-quality string construction with pure nickel-plated steel for maximum resonance, these are the best sounding bass strings for your instrument. Now available in four different gauges to fit any player's need.
This particular Ernie Ball set offers you a pack of strings that provides clarity and serious punch, manufactured in the Coachella Valley, which is perfect for any bassist looking to give their tunes some zest. Available in different gauges and rounds out at a great price point.
---
GHS Strings Electric Bass Boomer Set – the best for the strengthened core!
The GHS Strings Electric Bass Boomer Set made with round-wound nickel-plated steel on the strengthened core is everything you need to make your bass guitar stand out, whether it's on stage or in the studio. With these strings installed, you'll notice an immediate increase in volume and tone.
Make your bass stand out with these top-quality strings. With round-wound nickel-plated steel on a strengthened core, the GHS String Electric Bass Boomer Set features all of the benefits you expect from a POWER Series string. The medium-light gauge design offers great sound and feels at budget-friendly prices!
These round-wound nickel-plated steel strings are stronger than standard ones, for more volume, sustain, and brilliance! The perfect balance of strength and affordability allows you to experience that clear tone that will have your audience enthralled.
---
Useful Video: Everything You Need To Know About Bass Strings
---