---
Blackstar Mini Amplifier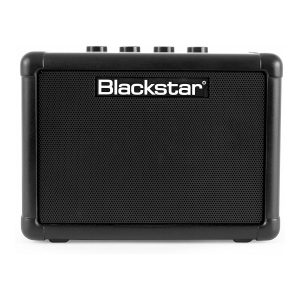 Digital «Tape» Delay Effect
MP3/Line In For Jamming Along Or Listening To Music
Patented ISF
Fender Mustang I V2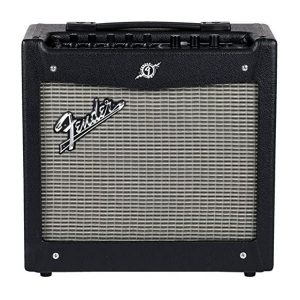 8" Fender Speaker
Reverb, Delay/Echo, Tremolo, Phaser Effects
USB Connectivity
Fender Mustang LT-25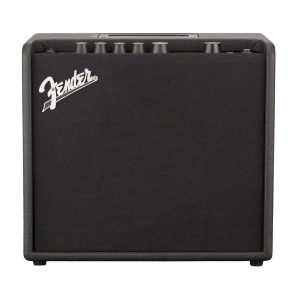 25-Watt Combo Amplifier
Single 8" Fender Special Design Guitar Speaker
Stereo Headphone Output
Orange Amp Crush 20 RT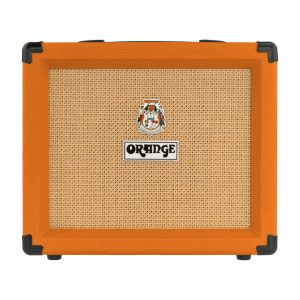 2 Foot Switchable Channels
Controls: 3 Band EQ, Volume, Gain, Reverb
Built In Reverb
Monoprice 1×10 Amplifier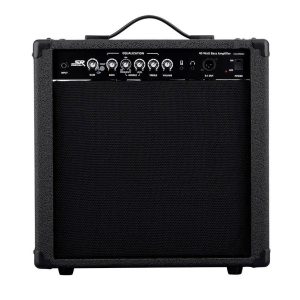 Spring Reverb From Monoprice
3-Band Equalizer (100 Hz, 1 kHz, 3 kHz)
0.5% Total Harmonic Distortion
---
Choose the Best Combo Amp for Metal
Customer's Choice: the Best Rated Combo Amps for Metal
14 users answered this survey. Please help us improve this review!

42.86% of users selected Blackstar Mini Amplifier, 0% selected Fender Mustang I V2, 28.57% selected Fender Mustang LT-25, 14.29% selected Orange
Amp
Crush 20 RT and 14.29% selected Monoprice 1x10 Amplifier. Every month we analyze your answers and change our rating.
---
It is not enough to have a good and expensive guitar for a full-fledged game. For your instrument to sound, you need a dedicated guitar amp. But what is this device and which model is right for you?
A wide selection of guitar amplifiers is available to the buyer on online storefronts. First, you need to figure out exactly how the sound of your instrument is amplified and what is needed for this.
Very often, many people confuse the concept of guitar amplification with audio amplification, the main purpose of which is to amplify a sound signal without any distortion. You need to understand that the sound of an electric guitar coming from a speaker is the result of many factors. These are the properties of the instrument itself and the characteristics of the guitar amplifier.
Of course, the volume of the guitar sound also depends on the amplifier. However, this is only a side function. The main job of a guitar amplifier is to shape the sound of an electric guitar. Therefore, there is a huge variety of models with all kinds of sound colors.
Each amp is optimized for a specific instrument. These are mainly acoustic, bass, and electric guitars.
The electric guitar amplifier is structurally the most complex of all types. This is understandable, because this instrument, due to the use of various effects (in particular, distortion), can produce a sound of a fairly wide range.
Amplifiers for "acoustics" are designed to transmit the high, middle, and low frequencies of acoustic sound. Experts advise against resorting to distortions in this case. Such devices are usually designed with their speakers.
Bass amps are less designed to reproduce any kind of effects, as they focus on the transmission of low frequencies. Usually have built-in large speakers.
When a musician plays the guitar, his task is to choose the most convenient and functional sound amplifier. Some people use the simplest methods and use a computer that allows them to play sound through the sound card with the program installed. Also, many programs can be downloaded for free and this is another factor due to which newbies do not buy the right equipment. 
Using this method, you can run into several problems. The program will not allow you to create high-quality and clear sound, no matter how hard you try. If you use the program and then decide to reproduce the same sound on the amplifier, you will hear all the errors and errors that the program masked. Any seasoned guitarist will tell you that buying an amplifier is the best bet. Read about the pros and cons of the best combo amplifiers in our review.
Blackstar Electric Guitar Mini Amplifier – the best for digital 'tape' delay effect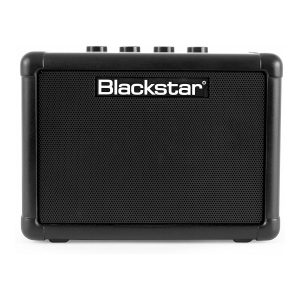 A portable combo amplifier is used to improve the sound quality of an electric guitar, as well as connect it to speakers. It is appreciated by users for the ability to record tracks and MP3 / Line In for jamming along or listening to music.
This amplifier is not so long ago on the musical equipment market, but it established itself in the society of guitarists. The device is convenient to use, portable, has a headphone input, functions as a combo amplifier, is equipped with a power of 3 W with a patented ISF, and has a three-inch speaker.
Pros
Pros
Easy-to-use;

Small and comfortable;

Affordable price;

The range of settings can be used for playing rock and blues;

Big tone, even at the lowest volumes.
Cons
Cons
Small wattage;

Few adjustments;

At low volume, you will have to "warm-up" the amplifier with a preamp or lotion.
The amplifier can be easily transported to a rehearsal or concert venue. Manufacturer Declared Weight 1.68 lbs. Such an amplifier can even be put in your pocket and played outdoors. Also you can record your tracks, the amplifier has such a function. 
---
Fender Mustang I (V.2) 20-Watt – the best for the ratio of sound, volume, and quality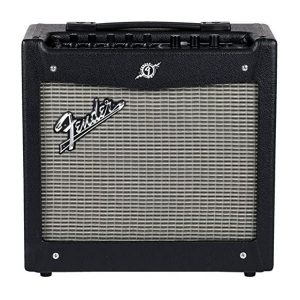 Versatile for all styles of play, this very easy-to-use electric guitar combo is perfect for rock and blues musicians. The combo amplifier has many advantages. It is worth noting two 12-inch speakers. Regardless of the volume level, the guitar sound will be clear and distinct, without extraneous noise.
The manufacturers of this combo amplifier have taken care of additional effects. This way you can use it regardless of your playing style. Jazz, rock, blues, hard rock, any style will sound, especially if you adjust the desired effect.
The manufacturers also took care of your neighbors by thinking of equipping the combo amplifier with a headphone input. There is also an additional input for working with a media player.
Pros
Pros
Clayton Picks Exotic DWS/3 Guitar Picks;

Pick sampler;

Built-in effects for playing different genres;

High quality and clear sound.
Cons
Cons
A handle is built into the amplifier for easy portability. The construction consists of a flexible rubber-coated plate that will support a lot of weight, but at the same time provide comfort. The amplifier has a separate headphone output. 3.5mm jack for virtually silent rehearsals.
All control elements are located on the front of the panel, which provides convenient debugging while playing the guitar. A two-band equalizer helps you play with overdrive and clear sound. Supports fast switching with one button. Non-slip feet are built into the lower part of the case to securely hold the amplifier in an upright position
---
Fender Mustang LT-25 – Digital Guitar Amplifier – the best for compact size, smooth sound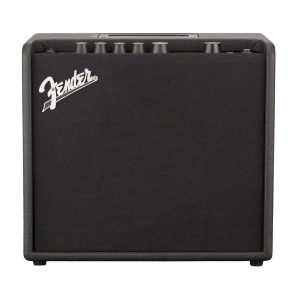 A multifunctional, suitable for all game pieces, rather primitive in use amplifier for electric guitars, suitable for young music lovers and professional guitarists. The device with the two-channel mode is equipped with a pair of 12 sound emitters, produces a great sound when set at any volume.
Thanks to additional effects, it is possible to achieve the desired sound according to the musical style. There is an additional connector for simultaneous operation with a media player. A headphone output allows you to improve your gaming experience with little to no noise, without causing discomfort to those around you.
Pros
Pros
8″ color display;

USB interface for recording;

There are a headphone and microphone jack;

Average price;

High power
Cons
Cons
Wooden cabinet;

Bass is poorly audible; 

Few settings for effects; 

The sound is not high quality, especially the voice.
Convenient small "combo" with a worldwide reputation. In terms of technical characteristics, it is excellent for small concerts or a studio. This amplifier sounds very much like the old school. Therefore, if you decide to play metal, then this version of the guitar amplifier will suit you perfectly.
---
Orange Amps Electric Guitar Power Amplifier – the best for easy tuning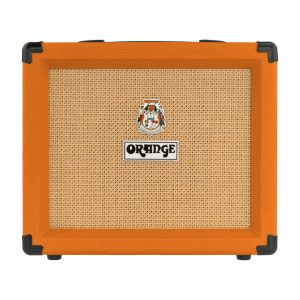 The model is equipped with a 35 W speaker and a spring reverb, which ensures the reproduction of loud and surround sound in any room. For the convenience of the musician, channel switching is available using a pedal.
A built-in tuner makes tuning easy, and a headphone jack makes it easy to play in any setting. Equalizer function and overdrive level control ensure the most accurate sound control.
Pros
Pros
Surround sound;

Flexible customization;

No signal fluctuations;

Sound recording function;

Small size.
Cons
Cons
This combo amplifier is worth purchasing for use not only at home but also on the road. The versatility and individual setting of the device provide a comfortable game for beginners and professionals.
---
Monoprice 40-Watt 1×10 Guitar Combo Amplifier – the best for high and low inputs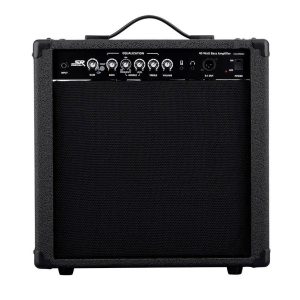 The ultra-lightweight sealed system enclosure, built on durable ABC plastic, provides a good acoustic response. The complete bass-reflex fully covers the low-frequency range.
The 15 W output power predetermines a significant headroom of sound volume while maintaining its high quality. The digital effects function block supports reverb, chorus, flanger, and other useful synthetic impressions. Analog modeling expands the possibilities for fine-tuning the sound. An optional footswitch during installation guarantees the most comfortable and efficient program switching.
Pros
Pros
0.5% total harmonic distortion;

3-band equalizer

Good sound;

Portable.
Cons
Cons
Not the most favorable combination of price and functionality.
This model does not really shine with functionality, but the main thing in it is still not a conventional "quantity", but still quality. Here we see the real professional level. However, with all the outstanding qualities of this combo amplifier, buyers still note a somewhat inflated cost, which, if it matches the quality, does not correspond to the functionality.
---
Buyer`s Guide
A combo amplifier is an irreplaceable thing for a guitarist if he wants to achieve a high-quality and clean guitar sound. Combo amplifiers can be divided into the following:
lamp

transistor

digital

hybrid.
A lamp amp. Novice guitarists can only dream of being able to afford such a purchase in the future. This is the oldest class of amplifiers. In their construction manufacturers still use tubes and circuits. That helps to produce a soft, clean, easy-to-hear guitar sound. Among professionals, it is believed that tube amps are the key to achieving a clean, warm sound while playing. Using a tube amplifier, the sound will not be overdriven. Such an amplifier is suitable for big performances. 
But it also has disadvantages. The high price is the first thing you will have to face. If you do not plan to play professionally, then there is no point in buying such an amplifier. Consider the fact that such amplifiers are very fragile, they have a lot of weight. If you need to transport the amplifier to another place, then you should think in advance about the safety of the equipment during transportation. Also, keep in mind that several times a year you will need to replace lamps that are not so cheap.
Transistor combo amplifiers are the most popular due to their affordability. First, it is worth mentioning the advantages of buying such amplifiers. Lightweight and reliability, ease of tuning, and operation attract many guitarists. And even though such guitar amps are inferior to tube amps in sound quality, we cannot say that such amps sound disgusting. These transistors are great for home use and studio play.
Digital or modeling combo. These combo amplifiers have appeared on the musical equipment market not so long ago. Previously, they were not very popular with guitarists due to poor sound quality. Now these amplifiers have been upgraded and sound much cleaner. These sound amplifiers also have built-in sound effects, they can be used both for playing acoustic guitar, and for rock, blues.
The hybrid combo models have a built-in tube preamp. They combine transistor power amplifiers. Buying this stuff you get a mix between cheap transistor amplifiers and expensive and high-quality tube amplifiers.
How to choose combo amps
Amplifier selection is a difficult and time-consuming process. Price and power, built-in sound effects, and sound clarity are not all you need to pay attention to before buying. Below, we suggest you familiarize yourself with what is important to consider when choosing an amplifier for your guitar.
Purpose of use and power. This is one of the most important points to pay attention to. You can use a combo amplifier for your home, and then the small compact version that occupies the first place in our rating will suit you. If you plan to give concerts, play in large halls and rooms, then the combo amplifier should be larger and more powerful.
Pay attention to the tube combo amp. Its sound will be brighter and clearer, there will be no extraneous noise. Therefore, when buying an amplifier for playing in front of an audience, for concerts, options with a power of 30-50 watts are suitable. For rehearsals at home or in a small studio, a 10-15 W amplifier is sufficient.
It is generally accepted that for comfortable playing together, the bass player's amplifier should be about 2 times more powerful than an electric guitar amplifier.
Scheme. If you decide to choose a combo amplifier according to this principle, then it is worth remembering the differences between transistor and tube amplifiers. Price here, and sound quality, plays a big role.
Tube guitar amps are much more expensive than solid-state amps. In terms of power, we can select it for playing at home, in a studio, and in a large area, such as a stadium, club, or large concert hall. The sound quality is much higher than that of the transistor and digital amplifiers. But if you are just playing, then you just don't need such an expensive model. Besides, a novice guitarist plays quietly, he is afraid of loud sounds only because he does not yet have such skills. When using a tube combo amp, you shouldn't play any quieter than 50% of the amp's maximum volume. So buying a 50-watt amp to play at home or in a small area is just ridiculous and unnecessary.
Manufacturer. You already know exactly for what purposes you need a guitar combo amplifier, you have chosen the required power and decided on the circuitry, now it remains to make the last choice – to decide on the manufacturer. Each model will have certain differences. Each band tries to equip their model with sound effects and make it better than the previous one.
If it attracts you to a FENDER combo amplifier, this is not surprising. Clean sound, soft bass – all this will receive the guitarist playing folk, blues, or jazz. For rock musicians, MARSHALL amplifiers are suitable. These amplifiers have reverb and overdrive, the sound is powerful and aggressive. Combo amplifiers from KUSTOM are affordable, powerful, transportable, have high-quality speakers that produce a clear and bright sound. Unfortunately, these models do not have a wide range of sound effects. If you buy an amplifier from this brand, then you should take the pedals right away to enhance the effect of the guitar sound.
The presence of additional effects and functions. There are different amp models. Some models do not have built-in sound effects, they are not expensive, but they will not delight you with bright sounds. Other combo amplifiers, on the contrary, have many effects, they have a rich audio interface, you can connect a smartphone to them. Typically, a combo amp has overdrive, 3-band EQ, and reverb. If you decide to buy a combo amp with weak effects, we recommend that you immediately consider buying an effects pedal. This will help you achieve simple sound while using an inexpensive combo-amp.
We hope this information will be enough to make the right choice and buy a great combo amplifier. If you still have questions, you can always get an answer at a music equipment store.
Useful Video: Fender Mustang I V2 Guitar Amplifier Combo Demo Review
Final Words
A combo amplifier is an amplifier and speaker system in one device. Some modern combo amps are so compact that they can be carried on a belt. But it is not uncommon for professional guitarists to buy themselves several large, powerful devices to fit certain songs, since they sound different.
There are three types of guitar combo amplifiers – transistor, tube, and combined. Transistor ones are cheaper, tube ones are more expensive. But you shouldn't buy the cheapest combo amplifiers, it is better to consider models from the middle price range – they will have much higher sound quality. An important selection criterion is a purpose for which the device is purchased. For home use, a small device is enough; for concert stages, more powerful models are needed.
---