Do you remember when it happened? It was a devastating moment when one of the greatest guitarists in hard rock music lost his life. Dimebag Darrell Abbott, born on August 20th, 1966 set out to achieve greatness with Pantera and Damageplan, although tragically he met a violent end on December 8th, 2004 while onstage at a concert. Many are still haunted by this night and even now we ask ourselves 'How did Dimebag Darrell die?' This question continues to influence our understanding of what happened that day in Ohio. Throughout this blog, we will discuss the events leading up to his death and investigate why he is remembered today as one of metal's most influential icons.
Who is Dimebag Darrell?
Dimebag Darrell, born as Darrell Lance Abbott, was a renowned American musician and songwriter, best known as the co-founder and guitarist of the heavy metal bands Pantera and Damageplan. His innovative and aggressive guitar technique made him a standout figure in the heavy metal genre. Darrell's playing style was characterized by his pioneering use of the whammy bar, aggressive riffing, and distinctive harmonic squeals, which have inspired countless musicians worldwide. He was often seen on stage with his signature blue "Dean From Hell" guitar, ripping through solos with a fiery intensity that left audiences mesmerized. Despite his untimely death, Darrell's legacy continues to live on in the music industry, with many contemporary guitarists citing him as a significant influence on their musical journey.
Darrell's tragic death left a void in the world of heavy metal music, and he is still remembered today as one of the most influential icons in the genre. Though his life was cut short at a young age, Darrell's music and legacy will continue to live on for many years to come.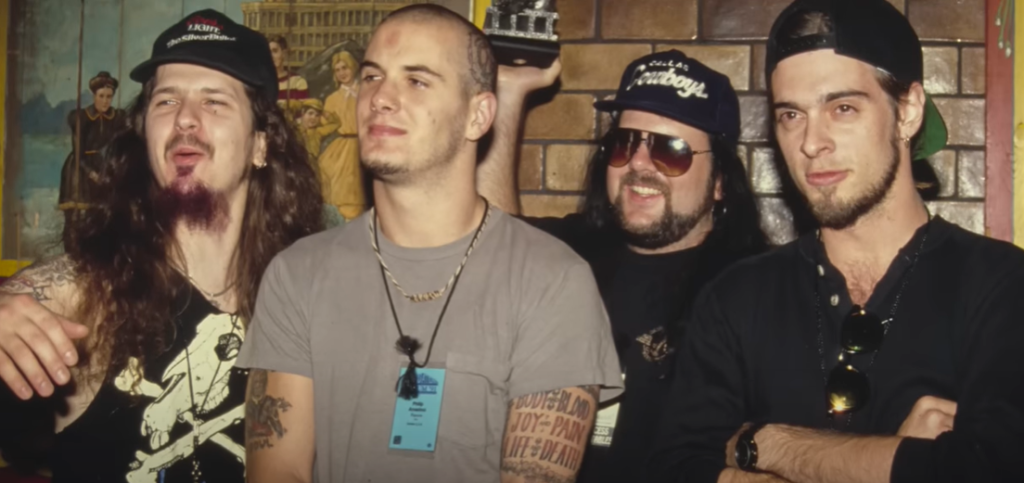 Dimebag's Career
Dimebag Darrell's musical career was as vibrant and impactful as his personality. Emerging as a prodigious talent in the hard rock scene, this Texan guitarist soon became a potent force in the world of heavy metal. His journey, though tragically cut short, left an indelible mark on the genre, inspiring countless musicians with his innovative approach to guitar playing. Let's delve deeper into his career and explore the milestones that define his enduring legacy.
Pantera
Originally formed in 1981, Pantera started as a glam metal band, heavily influenced by KISS and Van Halen. Darrell, who was only 15 at the time, played guitar alongside his older brother, Vinnie Paul, on drums, with Terry Glaze on vocals. [1] The band released three albums in this style. However, their musical direction shifted radically towards a more aggressive, heavy sound with the arrival of vocalist Phil Anselmo in 1987. This transition marked the beginning of Pantera's golden era, and they soon made their mark with the release of their breakthrough album, "Cowboys From Hell," in 1990.
Songs like "Walk" and "Fucking Hostile" exemplified Darrell's intense guitar playing and the band's raw, unfiltered aggression. Their subsequent albums, "Far Beyond Driven," "The Great Southern Trendkill," and "Reinventing the Steel," further cemented Pantera's status as heavy metal royalty. Despite internal tensions and issues with drugs and alcohol, the band continued to produce music that resonated with fans around the world thanks to their brutally honest lyrics and Darrell's impactful, unforgettable guitar solos.
Damageplan
Following the dissolution of Pantera in 2003, Darrell and Vinnie Paul formed Damageplan. This new band was a continuation of the Abbott brothers' beloved heavy metal sound; they released their debut album, "New Found Power," in 2004 to critical acclaim. The album featured tracks such as "Breathing New Life" and "Save Me," showcasing the brothers' trademark sound. While Damageplan was unable to replicate the commercial success of Pantera's previous releases, their music attracted the attention of fans of both the older and younger generations. The tragic events of December 2004, however, brought a sudden end to the Abbott brothers' bright future in music.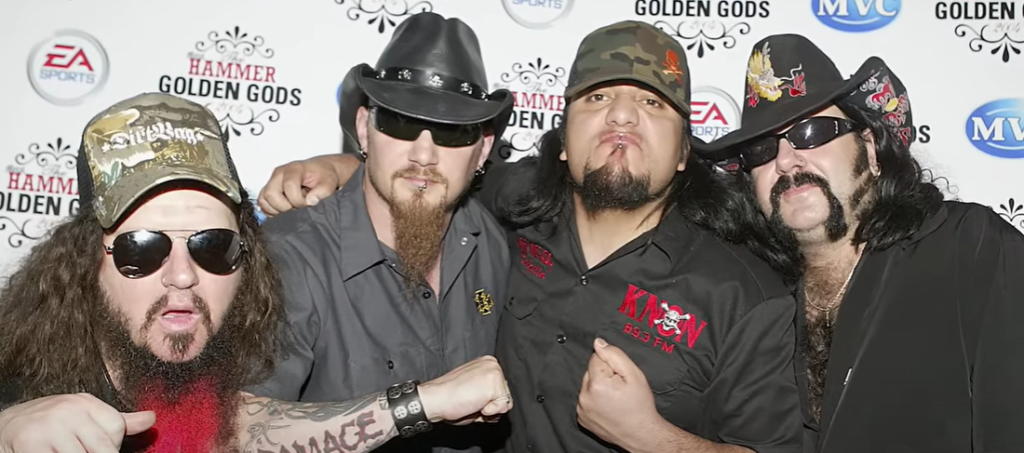 Other projects
Outside of his primary bands, Darrell was also involved in a variety of other musical projects, further reflecting his boundless passion for music. He made guest appearances on numerous albums and tracks of other artists, showcasing his virtuosic guitar skills on a wide range of musical landscapes.
Notably, he contributed a guitar solo to the Anthrax song "Riding Shotgun" from their album "Stomp 442," reinforcing his status as a leading figure in the metal scene. Darrell also performed with Nickelback on their cover of Elton John's "Saturday Night's Alright for Fighting," which was included in the soundtrack for the film "Charlie's Angels: Full Throttle." 
In addition, he created a project named "Rebel Meets Rebel" with country singer David Allan Coe, his brother Vinnie, and Pantera's bassist Rex Brown. This project blended elements of country and heavy metal, reflecting Darrell's Texas roots and his affinity for genre-crossing collaborations. Furthermore, Darrell was a part of Tres Diablos, a band with his brother and Terry Glaze, where they played lighter styles of music including pop and country.
Unfortunately, many of these projects and collaborations were often overlooked due to the towering success of Pantera and Damageplan, but they remain a testament to Darrell's versatility as a musician and his relentless pursuit of creative expression.
Dimebag's Death
The night of December 8, 2004, marked a tragic end to Dimebag Darrell's illustrious career. The guitarist was on stage with Damageplan at the Alrosa Villa nightclub in Columbus, Ohio, when a man named Nathan Gale stormed the stage and shot Darrell multiple times. [2] Gale, a seemingly deranged fan, also killed three other people and injured seven before a police officer fatally shot him. The heavy metal world was left in shock and mourning.
The music community rallied around Dimebag's memory, honoring the fallen guitarist with numerous tributes. Many artists, including famous bands like Slipknot, Black Sabbath, and Nickelback, dedicated songs to Darrell. Eddie Van Halen, one of Darrell's heroes and inspirations, placed the black and yellow-striped guitar (the bumblebee) that was buried with Van Halen himself into Darrell's casket. Events such as "Dimebash," a benefit concert featuring performances from many notable musicians, have been held in his memory.
Darrell's death had a profound impact on the music world, but his influence remains alive and well. His pioneering guitar work continues to inspire new generations of musicians, and his music continues to resonate with fans old and new. Even though his life was tragically cut short, Dimebag Darrell's legacy in the world of heavy metal remains firmly intact. His spirit, like his music, is timeless.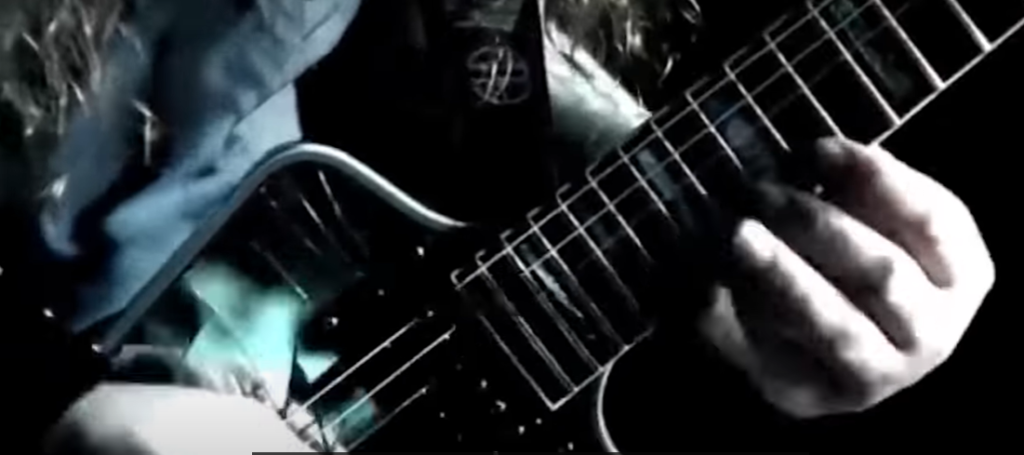 His Life
Dimebag Darrell, whose real name was Darrell Lance Abbott, entered the world on August 20, 1966, in Arlington, Texas. During their formative years, both Darrell and his sibling Vinnie Paul had the privilege of being immersed in music, a passion ignited by their father, Jerry Abbott, a prominent figure in the realm of country music production. Darrell's first foray into the world of music was with the drums; however, he eventually switched to the guitar, a move that would shape his future.
A relatively less-discussed aspect of Dimebag Darrell's life was his strong admiration for the British heavy metal group Judas Priest, with a notable focus on their lead guitarist, Glenn Tipton. This fondness for Judas Priest was so profound that Darrell had originally considered naming his band "Gemini," after the Judas Priest song "Blood Red Skies."
Another interesting fact about Darrell is his love for the bottle. He was known for his heavy drinking and his favorite drink was the "Black Tooth Grin" – a cocktail of Seagram's 7, Crown Royal, and a splash of Coke, named after a lyric in the Megadeth song "Sweating Bullets."
In addition to his musical endeavors, Dimebag Darrell was also involved in various charitable organizations. He was a member of the "Rocking AIDS Awareness" campaign where he donated proceeds from Pantera shows and events to benefit victims of HIV/AIDS. He also supported the Wounded Warrior Project, a nonprofit organization that provides assistance to veterans of the United States armed forces. He also supported a number of charities that focused on helping children in need, such as the Make-A-Wish Foundation and the Boys and Girls Clubs of America.
Despite his rock star image and lifestyle, Darrell was known as a very friendly and approachable person. He loved his fans and often mingled with them. Known for his playful nature, he had a custom-made guitar shaped like a Dean ML, but in the form of a large Texas state flag, symbolizing his strong bond with his home state. His love for music and his fans were a testament to his larger-than-life persona, and these qualities, along with his exceptional talent, continue to endear him to fans around the world.
Musical style
Darrell's musical style was as unique as it was influential. He blended thrash metal, speed metal, and groove metal to create a sound that was heavy yet melodic, with soaring guitar solos and powerful rhythm riffs. His signature playing style included an aggressive palm-muting technique; a variety of vibrato techniques; pinch harmonics; and the use of two-handed tapping, which earned him the nickname "Dimebag" from many fans. He was also known for his signature tuning of Drop D, which he used to create a darker sound.
It is safe to say that Dimebag Darrell's legacy will live on for generations to come. His influence on heavy metal, as well as all of music, is undeniable. His pioneering guitar work and larger-than-life stage presence will continue to inspire many current and future musicians alike. He was a true innovator whose talent and passion for his craft will never be forgotten.
First Influences
Dimebag Darrell's musical journey began with a series of influences that shaped the musician he would become. From a young age, Darrell and his brother Vinnie were introduced to the realm of music by their father, Jerry Abbott, a skilled producer in the domain of country music.The essence of country music, with its soulful lyrics and intricate storytelling, played a pivotal role in shaping Darrell's musical sensibilities.
Interestingly, it was not just musicians who influenced Darrell's music. His love for his home state, Texas, was evident in his music. He often incorporated elements reminiscent of his Texan roots, as seen in his project "Rebel Meets Rebel" where the country met heavy metal.
In summation, a blend of country music, heavy metal, and his Texas heritage created the unique musician that was Dimebag Darrell. These influences not only shaped his music but also left an indelible mark on the heavy metal genre.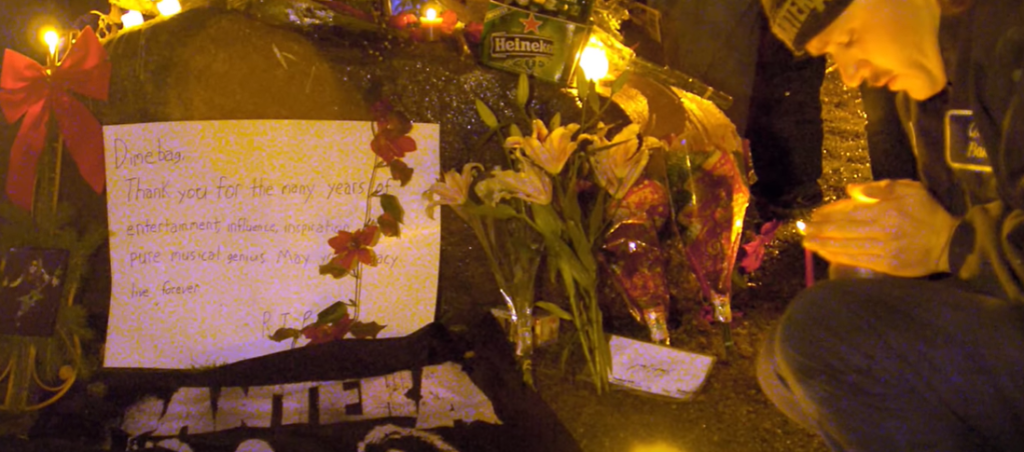 Technique
Dimebag Darrell's guitar technique was as innovative as it was influential, pushing the boundaries of what was considered possible on the electric guitar. His performance was marked by a fiercely aggressive approach, delivering pounding rhythm riffs. Darrell had a deep understanding of scales and modes, which he used to create his distinctive solos. One of his trademarks was the inclusion of pinch harmonics, a technique that involves squeezing the pick as it strikes the string, producing a high-pitched squeal.
Darrell's unique tuning also contributed to his distinctive sound. He often used a Drop D tuning, which allows for heavier and more powerful-sounding chords. His heavy use of whammy bar techniques for wild pitch bends and even melodic uses was another hallmark of his style. Further, Darrell had a penchant for incorporating effects such as delay, flanger, and wah-wah into his playing, adding another layer of depth to his sound.
In essence, Dimebag Darrell's playing was characterized by a blend of raw power, technical proficiency, and an unerring sense of melody, making him one of the most revered guitarists in heavy metal history. His innovative techniques and distinctive style continue to inspire countless guitarists around the world.
What guitar did he use?
Dimebag Darrell was known for his fierce loyalty to Dean Guitars, specifically the Dean ML model. The Dean ML is a unique blend of a Gibson Explorer and a Gibson Flying V, boasting a larger body size that Darrell loved because it provided a better bottom end and resonation. Darrell's association with Dean ML began in his early career and continued until his untimely demise.
One of the most iconic guitars Darrell played was a heavily customized Dean ML, famously known as "The Dean From Hell," which was decorated with blue lightning bolts against a black background. [3] It was equipped with a Floyd Rose tremolo system, Bill Lawrence and Seymour Duncan pickups, and Dunlop 6000 fret wire. He favored this guitar for its ability to hold up under his aggressive playing style and extreme use of the whammy bar.
Darrell's loyalty to Dean Guitars wasn't just about the sound and the durability, though. He loved the aesthetic of the guitars, claiming they looked as metal as they sounded. His guitars often featured bold designs and finishes, reflecting his larger-than-life stage persona. More than just instruments, Darrell's guitars were extensions of his personality and integral parts of his musical expression.
Legacy
Dimebag Darrell's influence continues to resonate in the world of heavy metal, long after his tragic death. His inventive guitar playing and indomitable stage presence not only paved the way for a new wave of metal musicians but also revitalized the genre, infusing it with a fresh sense of vitality and innovation. Darrell's pioneering guitar techniques, coupled with his unique blend of musical influences, created a sound that was uniquely his own, yet universally admired. Whether it was his signature squealing harmonics, his gut-punching riffs, or his melodic solos, Darrell's playing has inspired countless guitarists to pick up the instrument and explore the limits of their creativity. 
Even today, his influence can be heard in the music of numerous metal bands, a testament to his enduring legacy. Furthermore, Dimebag Darrell's passionate dedication to his craft serves as a reminder of the power of music to inspire, challenge, and transform. His life and work continue to be a source of inspiration for musicians around the world, ensuring that his legacy will live on for generations to come.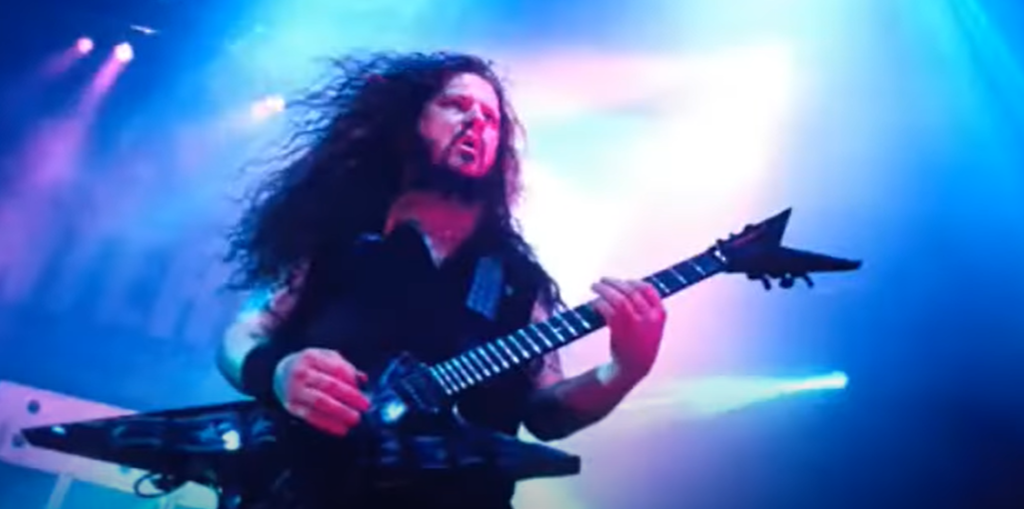 Discography
Dimebag Darrell's illustrious career spans several notable albums, both as a founding member of Pantera and Damageplan. Here's an overview of his discography:
Pantera
Metal Magic (1983): This was Pantera's debut album, heavily influenced by glam metal. Dimebag Darrell, then known as Diamond Darrell, was already displaying signs of his future guitar virtuosity.
Projects in the Jungle (1984): The band's second album showcased a shift towards a more definitive heavy metal sound.
I Am the Night (1985): This was the last album to feature singer Terry Glaze before Phil Anselmo took over on vocals.
Power Metal (1988): The first album with Phil Anselmo as the vocalist, 'Power Metal' marked the band's complete transition to a heavy metal act.
Cowboys from Hell (1990): Often considered Pantera's "official" debut, this album introduced its distinctive groove metal sound to the world.
Vulgar Display of Power (1992): This album further cemented Pantera's reputation in the heavy metal genre with its aggressive style and Darrell's innovative guitar work.
Far Beyond Driven (1994): Ranked number one on the Billboard 200, the album demonstrated the band's musical prowess and Darrell's unique guitar techniques.
The Great Southern Trendkill (1996): Known for its experimental approach, this album showcased the band's versatility while maintaining its heavy metal roots.
Reinventing the Steel (2000): The band's final studio album before their break-up in 2003.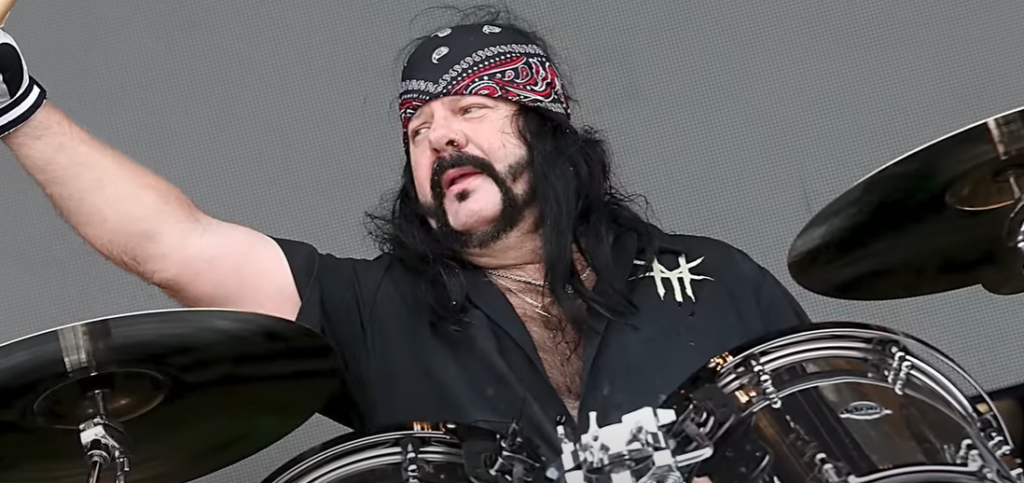 Damageplan
1. New Found Power (2004): The only album from Damageplan, formed by Dimebag Darrell and his brother Vinnie Paul after they departed from Pantera.
Rebel Meets Rebel
2. Rebel Meets Rebel (2006): This was a collaboration between Pantera members and country singer David Allan Coe, combining elements of country music and heavy metal.
In addition to these, Dimebag Darrell also had guest appearances on several other albums, further expanding his musical legacy. His discography remains a testament to his extraordinary talent and his significant contribution to the world of heavy metal.
Frequently Asked Questions
What were Dimebag Darrell's last words?
Unfortunately, there is no definitive answer to this question. According to witnesses, he shouted for someone to "call the police" before he was shot and killed on stage. However, it is impossible to know for certain what his last words were.
How old was Dimebag when he died?
Dimebag Darrell was 38 years old when he died on December 8th, 2004. He had achieved considerable fame and success in a relatively short period, having enjoyed a career that spanned over two decades.
Was Dimebag Darrell buried with a guitar?
No, Dimebag Darrell was not buried with a guitar. However, during his memorial service, his family and friends held a procession with an empty coffin representing him as well as one of his Dean ML guitars draped over it. A plaque placed in front of the coffin read "Dimebag Darrell: Gone But Not Forgotten." This symbolic gesture serves to honor his memory and legacy as one of the most influential guitarists of all time.
Did Dimebag Darrell ever sing?
Yes, Dimebag Darrell did sing occasionally, but he was primarily known for his guitar playing. On certain Pantera songs, he would provide backing vocals. Besides that, he also sang lead vocals on a few tracks when Pantera was first starting before Phil Anselmo joined the band. However, as his guitar skills became more prominent, his role as a vocalist reduced, and he focused more on his instrumental contributions to the band.
Why did Dimebag wear a razor blade?
Dimebag Darrell wore a razorblade necklace as a personal symbol of his edgy persona and unyielding commitment to his craft. It was a representation of his sharp, cutting-edge guitar playing that had a significant influence on the heavy metal genre. The razorblade became one of his trademarks, further solidifying his image as a heavy metal icon.
Useful Video: The Tragic Murder Of Dimebag Darrell Explained
Conclusion
All in all, Dimebag Darrell is an iconic figure in the heavy metal and rock music community. His career was remarkable, and he left behind a tremendous legacy that will inspire generations to come.He truly raised the bar with his unique playing style, charisma, and larger-than-life onstage persona. His work with Pantera and Damageplan showed an incredible dexterity to excel in more than one style of metal music. His death was a tragedy; one that could've been avoided if only safety precautions had been taken and proper security measures implemented. Despite his unfortunate passing, Dimebag Darrell's spirit and love of music still live on through the countless fans he touched throughout his career. For that reason, we should always take time out of our day to enjoy both his esteemed career and passionate legacy as a musician. It serves as a reminder of how far music can reach in connecting people all over the world and how strongly someone's craft can influence others. Rest in peace, Dimebag Darrell—you are sorely missed!
References:
https://www.last.fm/music/Dimebag+Darrell/+wiki
https://metal.fandom.com/wiki/Dimebag_Darrell#Death
https://en.salvemusic.com.ua/dimebag-darrell-dajmbeg-darrell-biografiya-artista/